An item from the organization formerly known as There But Not There.
---
RBLI are incredibly proud that Tommy Club Ambassador and England Captain Harry Kane has renewed his shirt sponsorship with Leyton Orient for the upcoming 21-22 season and has dedicated it to RBLI's Tommy Club.  
"It's one of the best shirts in the league for sure"
– Harry Kane
Emblazoned with the club crest, the Leyton Orient Home 2021/22 Shirt is engineered with NB DRY, which helps wick moisture away from the skin to help keep you cool no matter what's happening on the pitch.
10% of the proceeds from each sale will be donated to Tommy Club.
Funds raised will help provide the vital welfare support and employment opportunities that military veterans need to overcome challenges caused by physical or mental disability and regain their independence.
Click the button below to PRE-ORDER your Leyton Orient Tommy Club shirt from the Leyton Orient Online Store today.
Leyton Orient 'Tommy Club' Football Shirt (2021/22)
£47.99
Mental Health Awareness Week
Did you know it was Mental Health Awareness Week? There's no doubt that people's mental health has taken a toll during the pandemic, not just those of us stuck at home, but also front line workers.
For many of us, the challenges will be eased as the Nation comes out of lockdown and heads back to normality very soon. However, for some people, that might not be the end of it.
In 1919, RBLI's focus laid with treating WW1 soldiers with tuberculosis, but in today's world, it's the mental wounds that are more challenging.
Our range of PTSD patches below have been given to us by one our supporters Tim Brown who got together with RBLI beneficiary Paul Sapsford who was suffering from PTSD.
RBLI set Paul on the road to recovery by putting him through a counselling course and helping him back into employment. Together they have helped us raise funds to help others in the same situation and to support veterans in employment.
Every purchase of a PTSD awareness patch not only helps to raise awareness of the condition, but it helps to fund RBLI's work in helping veterans with the condition adapt to civilian life, and gain employment.
PTSD Awareness Velcro Patch Pack of 3
£19.99
Limited Edition Tommy Patches- Lest We Forget
£9.99 – £19.99
Raising PTSD Awareness (Velcro Patch 9)
£10.00
Team Tommy's Race to Victory Relay
Thank you so much for your support of Team Tommy, Royal British Legion Industries and our veterans, over this VE Day and the Race to Victory challenge.
Together, Team Tommy completed an 868 mile journey and returned home to a triumphant welcome here on the RBLI Village in Aylesford, Kent this past Saturday, VE DAY. We started Tommy's Race to Victory at our award winning social enterprise, Scotland's Bravest Manufacturing Company, in Erskine and travelled the length of the country to Britain's Bravest Manufacturing Company, in Kent whilst meeting some truly inspirational WW2 veterans along the way. It was an incredible journey, often battling difficult conditions, that was only achievable because of the support and kindness of the public and communities we met along the way.
On route, the team stopped at cities and key military locations, presenting specially-made VE Day Tommy figures, made by injured veterans working in RBLI's factories, to notable members of the local military communities. They have raised over £20,000 during their time on the road and received incredible public support along the way, meeting WW2 veterans, Cadets, community supporters, our fantastic corporate partners and event sponsors. The funds raised will go directly to supporting veterans through RBLI's wide range of welfare, accommodation and employment support services.
If you would like to make a donation you can do so here:
Get your Garden ready for Summer!
Our incredibly popular range of garden products are keeping our veterans very busy indeed. Due to the popularity, we have increased our team of carpenters, who work to produce our wooden range full time so they they can reach your gardens for Summer!
If you haven't already, check out the range below!
Small Tommy Planter
£57.00
Tommy Garden Planter Bench
£179.99
Large Tommy Planter
£89.99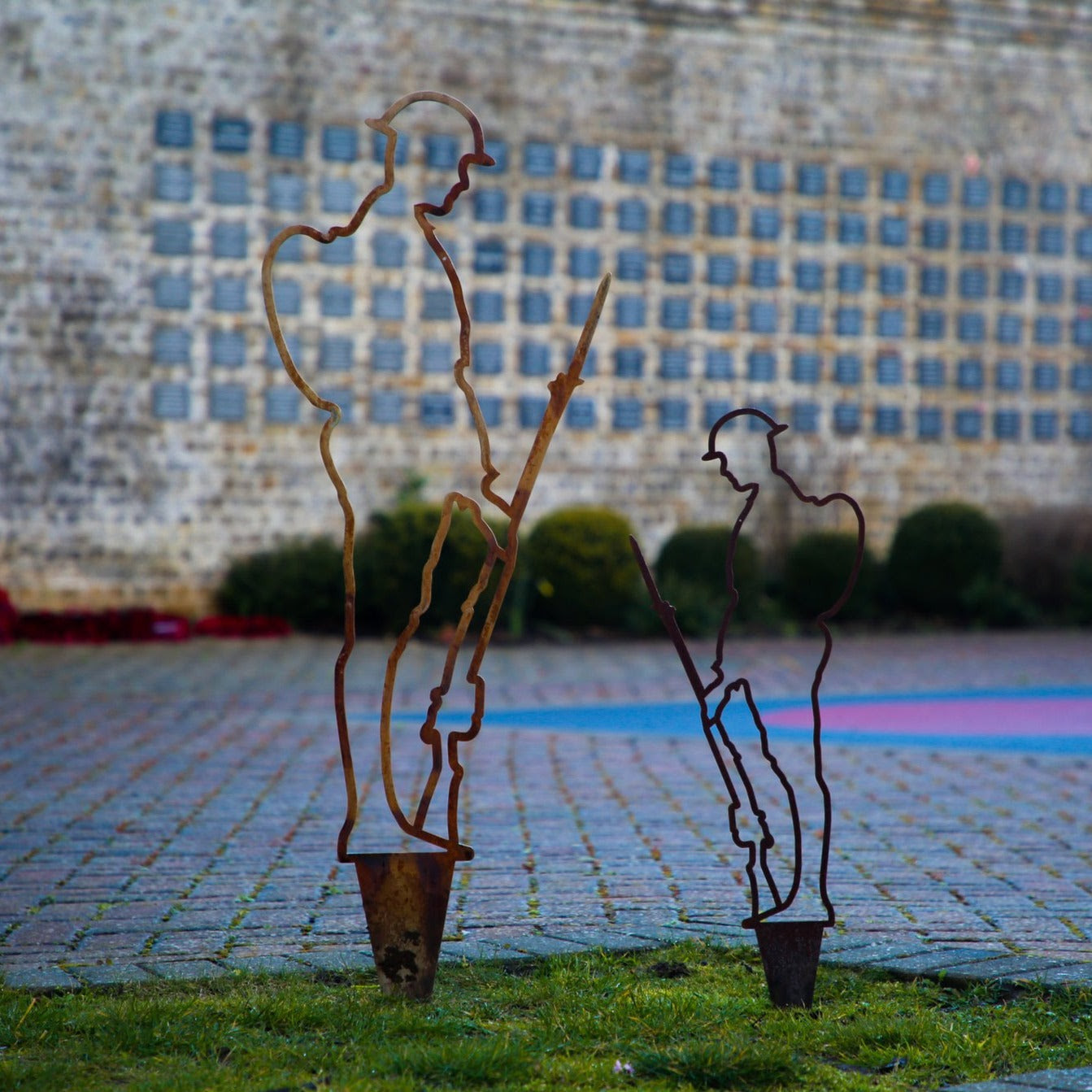 Garden Tommy Large
£116.99
Wall-Mounted Metal Tommy
£66.99
Garden Tommy Medium
£74.99
Copyright © 2021 RBLI, All rights reserved.
Our mailing address is:
RBLI
Royal British Legion Industries Village
Hall Road
Aylesford, Kent ME20 7NL
United Kingdom