An item from a fellow Canadian organization in the Bay Area.
---
 A CONVERSATION ON RISK-TAKING WITH TECHNOLOGY EXECUTIVE & C100 CHARTER MEMBER SUKHINDER SINGH CASSIDY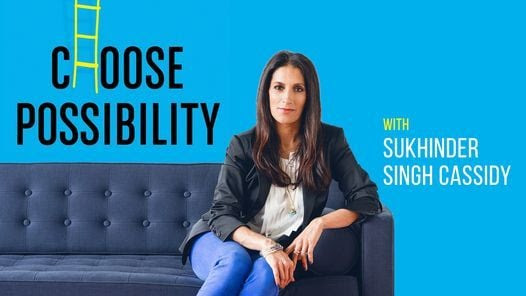 Join us for an intimate fireside chat with Sukhinder Singh Cassidy, one of Silicon Valley's most admired leaders, a valued C100 Charter Member and author of her most recent book, CHOOSE POSSIBILITY: Take Risks and Thrive (Even When You Fail). Check out a preview of her book here in Tech Crunch.

Sukhinder Singh Cassidy is a leading digital CEO and entrepreneur with more than 25 years of leadership experience founding, scaling and advising companies including Google, Amazon, StubHub, Yodlee and more. She is currently Founder and Chairman of theBoardlist, a premium talent marketplace for diverse leaders to be recommended and discovered for board and executive opportunities. Most recently, Sukhinder served as the leader of StubHub, the premiere global consumer ticketing marketplace for live entertainment, which her and her team sold for $4 billion in February 2020.
 LISTEN: CANADA'S ROLE IN DEFINING THE FUTURE OF TECH
"Across Canada, the U.S. and around the world, in the last year some of the biggest success stories technology companies that were founded by Canadians. […] We're looking forward to more IPOs this year of Canadian founded companies that are having a huge impact globally."

Tune into Episode 5 of the Confluence podcast where C100's CEO Laura Buhler & Co-Founder Chris Albinson dive into Canada's role in defining the future of technology, in the Bay Area and beyond, with host Rana Sarkar, Consul General of Canada to Northern California and Silicon Valley.

Also featured in this episode is Michelle Zatlyn, Co-Founder, President & COO at Cloudlfare (& C100 Charter Member).
GROW TOGETHER!
SUPPORT THE C100 AS A MEMBER
Join our talented community of builders connecting around the world to advance Canadian founders & leaders in tech.
COMMUNITY UPDATES & MEMBERS IN THE NEWS
 People.ai, led by Founder & CEO Oleg Rogynskyy (Charter Member), has hit unicorn status at a $1.1-billion valuation following a $100-million in Series D financing, co-led by Mike Dinsdale, Managing Director at Akkadian Ventures (and Charter Member), and Abdulla AlBanna of Mubadala Capital. Hear directly from Oleg in this blog post. Congratulations to Oleg & the People.ai team!
 Mississauga-based PointClickCare announced that Co-Founder & CEO Mike Wessinger (Charter Member) will become its Executive Chair. His Co-Founder & brother Dave Wessinger will become CEO.
 #anotherone Toronto-based cloud accounting software company FreshBooks has passed the $1-billion valuation mark following an announcement that it has secured $80.75-million in Series E financing and $50-million in debt financing (total $130.75-million). Congratulations to Co-Founder & Chairman of the Board Mike McDerment & the FreshBooks team!
 Montreal-based Hopper secured $175-million in Series G financing, bringing its total raise to date to nearly $600-million and its valuation to $3.5-billion. Fun fact: it had a $2-billion valuation just five months ago. Plus, a bonus article from the Logic about the news (subscription required).
 Elevate launches Think 2030, a three-day event taking place in Toronto and online to address the United Nations Sustainable Development Goals and explore how design, innovation and technology can solve society's greatest challenges.
 The DMZ (C100 Corporate Partner) has launched a new Social Impact Stream within their Black Innovation Program to support Black founders with a social mission and purpose. Learn more here and applications are due August, 31st!
 Montreal-based Lightspeed Commerce Inc. has raised an additional $107.4-million in its share offering after underwriters exercised their over-allotment option in full, bringing the total raised amount to $823.5-million (before underwriting commission and offering costs). Founder & CEO Dax Dasilva (Charter Member) shares more about the latest on Lightspeed on CNBC's Closing Bell.
 The Canadian federal government is providing $1.44-billion to Ottawa-based satellite company Telesat in an effort to extend broadband internet service to Canada's rural and remote areas. Telesat's global network, named "Lightspeed", will be composed of 298 low-Earth orbit (LEO) satellites operating 35 times closer to earth than traditional telecommunications satellites.