Note these greetings from an important Canadian museum in Europe.
---
Décembre 2022, le Centre Juno Beach en Normandie et au Canada
December 2022, the Juno Beach Centre in Normandy and Canada
Toute l'équipe du Centre Juno Beach en France et au Canada vous souhaite de bonnes fêtes de fin d'année et une heureuse année 2023 !
The entire Juno Beach Centre team in France and Canada wishes you Happy Holidays and a Happy New Year 2023! 
Retour sur l'année 2022
Looking back on 2022
Les visites officielles / Official visits
13 Avril : L'honorable Lawrence MacAulay, Ministre des Anciens Combattants
April 13: The Honourable Lawrence MacAulay, Minister of Veterans Affairs
17 Août: L'honorable Ginette Petitpas Taylor, Ministre des Langues officielles et ministre responsable de l'Agence de promotion économique du Canada atlantique

August 17: The Honourable Ginette Petitpas Taylor, Minister of Official Languages and Minister responsible for the Atlantic Canada Opportunities Agency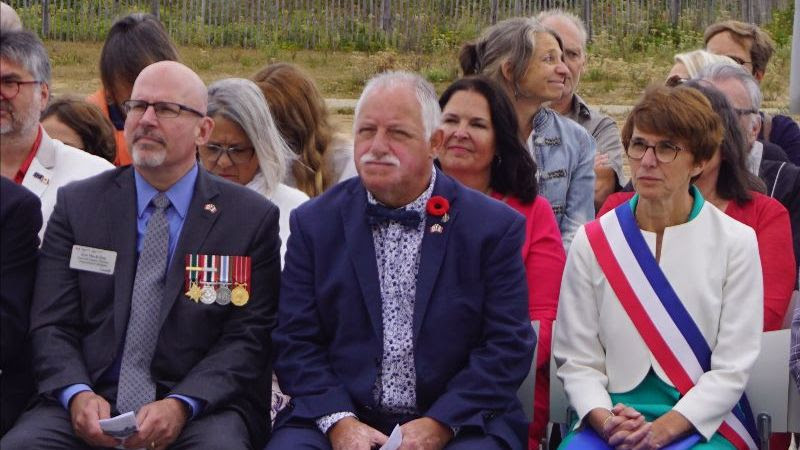 20 août Cérémonie Dieppe80: l'Honorable Darrell Samson, Secrétaire parlementaire du ministre des Anciens Combattants et ministre associé de la Défense nationale, Monsieur Ken MacKillop – Sous-ministre délégué, ministère des Anciens Combattants.

August 20 Dieppe80 Ceremony:
The Honourable Darrell Samson, Parliamentary Secretary to the Minister of Veterans Affairs and Associate Minister of National Defence, ​​Mr. Ken MacKillop, Associate Deputy Minister, Department of Veterans Affairs.
En Normandie / In Normandy
En 2022, le Centre Juno Beach a accueilli près de 72 000 visiteurs. Les visiteurs canadiens ont pu revenir sur Juno Beach et de nombreux événements ont marqué l'année. En voici quelques-uns :
In 2022, the Juno Beach Centre welcomed nearly 72,000 visitors. Canadian visitors were able to return to Juno Beach and many events marked the year. A few of them below: 
Vous trouverez ci-dessous un aperçu des activités de l'Association Centre Juno Beach au Canada au cours de l'année qui vient de s'écouler.
Below is a glimpse of the activities of the Juno Beach Centre Association in Canada over the past year.
CJB participe au webinaire
Maple Leaf Route
webinar series features JBC Canada staff
Diplômés de l'école secondaire

Secondary School 2022 Graduates
Pour l'horizon 2023
For 2023
En 2023, le Centre Juno Beach célèbrera ses 20 ans ! Suivez notre actualité tout au long de l'année pour ne rater aucun événement.
In 2023, the Juno Beach Centre will celebrate its 20th anniversary! Follow our agenda all year round to not miss any event!
Copyright © 2022 CENTRE JUNO BEACH, All rights reserved.