An update from Dominion Command to its branches (note that items only relevant to branch executive or for Canadian branches have been removed).
---
Updates from National Headquarters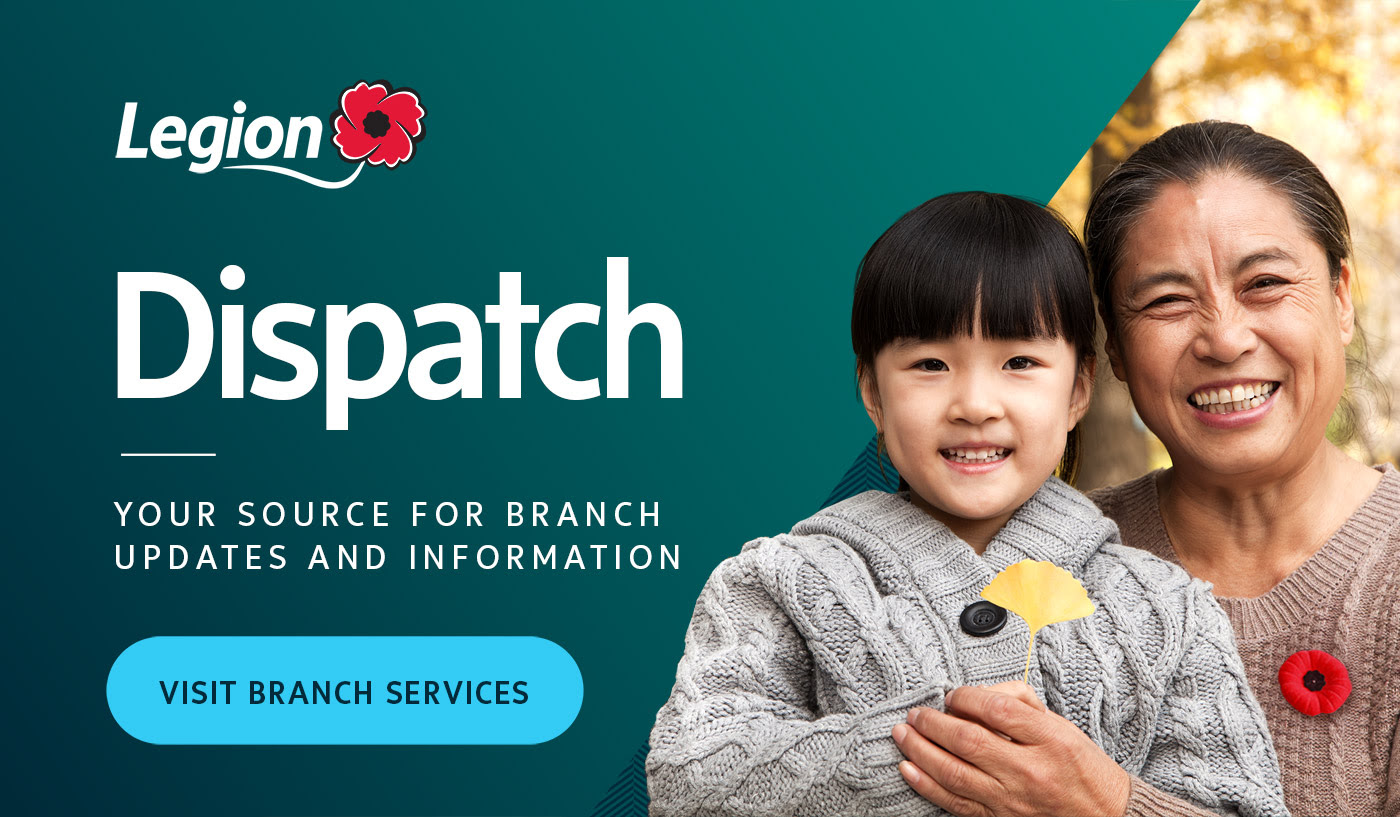 Share this email
Keep your Branch informed
Forward this email to your Branch Executives, Committee Members and other members to keep them up-to-date on important updates and information.
All Branch emails are also available on the Member Services Website
In this edition – October 2021
Review email with Poppy Campaign and Remembrance day information
Please ensure you have received and reviewed the email sent to all Branches on October 6. This email contains important information on conducting a safe and engaging Poppy Campaign and Remembrance Day Ceremony.
View email  ‣
2021 National Poppy Campaign set to launch
The 2021 Poppy Campaign and Remembrance Day are just around the corner. Read our recent news release announcing the approach of the Campaign and new and returning features.
News release  ‣
Add your local Legion Remembrance Day Ceremony to Legion.ca
People visiting the Legion's website can now search for the location of their local Remembrance Day Ceremony.
We encourage all Branches hosting a Remembrance Day Ceremony to add your event to the site. This tool, which will be widely promoted during the Remembrance period, will allow Legion Branches to share when and where they are holding Remembrance Day ceremonies. Branches can submit their ceremony details through the online form.
Members who prepay for 5 years receive a FREE Poppy toque, scarf, and mittens!
Encourage renewing members to prepay for 5 years to receive their free winter accessories.
Offer ends December 15
Legion.ca/winter  ‣
New Governor General Photo
The Office of the Governor General will be sending a new photo of the Governor General, Her Excellency the Right Honourable Mary May Simon, to each Legion Branch's address on file at Legion Headquarters. The photo is expected to be mailed in the coming weeks.
Nijmegen Marches call for submissions
Each year, Dominion Command of The Royal Canadian Legion invites Legion Members to apply for an opportunity to participate in the world's largest walking/marching event held in mid-July in the Nijmegen area of Holland. Please share the call for applications with your members. Applications must be submitted to their Provincial Command office by 14 January 2022.
Learn more  ‣
Branch Membership Administration
Resources and tips to support your Membership Chair
+ 2022 Renewal Stickers were mailed in August
The 2022 Member renewal stickers were mailed to all Branches in late August for all members who paid for 2021 by July 30, 2021. If you have not received your 2022 stickers, please contact member services.
+ Verify and welcome new members at your Branch
85% of new members joining online are selecting a local Branch to join! Branches are encouraged to reach out to new member applicants within 30 days of their application to let them know the process for their application or, if approved, welcome them to the Branch.
The Membership Committee's recommended 30-day application review period is a suggested timeline to ensure our organization is maintaining strong customer service practices for new members wishing to join and support the Legion. If a Branch is unable to meet the suggested 30-day period for a General Meeting or Executive Committee review of the application, it may still follow its own process to approve/decline a member and the procedure for that continues to follow the communicated policy.
Be sure to check your Legion.ca email account for notifications of new members or check the New Online Member Report on your Branch profile on the Member Services Website.
+ Reminder: Digital Membership Card coming soon
Coming later this fall, new and returning Legion members will have the choice of the traditional plastic card or an electronic membership card downloadable to a digital wallet. These digital cards will allow the Legion to save time and money producing, mailing and replacing plastic cards. Stay tuned for more details.
We are here to help!
Our team is here to help, Monday through Friday 8:30–4:30 pm EST.
Get access to Marketing and PR resources
Reach out to lapsed members to renew
Find a wide variety of recruitment and renewal resources on the Member Services Website, as well as free materials through the Legion Supply Department.
View resources  ‣
PR Tip of the Month
Dig up historical items
The Legion's centenary is coming up in a few short years. 2025–2026 will be years to celebrate 100 years of accomplishment, with July 2026 being the key anniversary date. It's not too soon to start dusting off old boxes and books and compiling your local centenary treasures.
Have questions or need advice? Contact your Command Public Relations Officer or Nujma Bond, Dominion Command Communications at nbond@legion.ca
Your Legion calendar: 2021
Promote important dates and organize activities at your Branch with this list of upcoming days that raise awareness of an issue, commemorate a group or event, or celebrate an important topic.
DOWNLOAD THE CALENDAR  ‣
MemberPerks®: Exclusive offers and preferred pricing through Venngo
MemberPerks® is more than a member benefit package. It's also a tool Branches can use to promote membership. Plus, you can partner with local businesses in your community to offer exclusive discounts for your members.
Learn more  ‣
Partner promotions
The following is brought to you by our partners, highlighting special offers and other information.
Special offer from Legion Magazine
If you have any questions, please contact Member Services and we will be pleased to assist. 1-855-330-3344 or membership@legion.ca
Office Hours: Monday – Friday, 8:30 a.m. – 4:30 p.m. EST
Working together to serve Canada's Veterans.
Copyright © 2021 The Royal Canadian Legion. All rights reserved.
Administrative emails from Legion National Headquarters are sent to the email address on file for your local Legion Branch. If this is no longer the correct email address for your Branch, please forward this email to the new contact and request the Branch update their contact information.
Our contact information is:
The Royal Canadian Legion National Headquarters
Member Services Department
86 Aird Place
Ottawa, ON K2L 0A1
Canada
Toll free: 855‑330‑3344
E-mail: membership@legion.ca