A newsletter from the organization formerly known as the World War One Centennial Commission.
---
Open Letter from Dan Dayton
Dear Michael
Using our new online request tool, I just made arrangements to honor Elmore DeWitt with the playing of taps at the National WWI Memorial.  Elmore served in the 3rd Battery Field Artillery in France from June of 1918 to May 1919…most of the war.  Many years later he was my neighbor and mentor and friend to my kids.  A very good man indeed. I was able to select his birthday to honor his service.
You can see the Taps performances every evening at 5 PM eastern on our YouTube channel, and I'll be able to share the clip with his family, along with a nice certificate.
Which sets up the theme of this year-end THANK YOU letter!
"What YOU helped us do in 2022!"
Now everyone can request to honor specific veterans with a dedicated sounding of Taps at the National WWI Memorial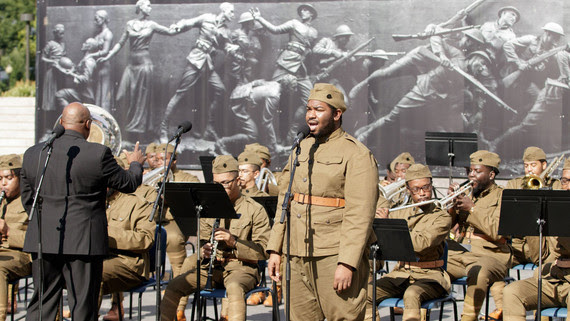 The 369th Experience band came to Washington DC for Juneteenth week
The 369th Experience is a tribute band to the original 369th Harlem Hellfighter Regimental Band that brought Jazz to Europe. It is composed of over 60 students primarily from Historically Black Colleges and Universities, and about the same age as those who served in WWI. They were able to come to DC and march with the "President's Own" United States Marine Band. They performed at the Kennedy Center and at the WWI Memorial to commemorate Juneteenth. It was impressive and impactful. To quote one of the students: "This experience changed my life!"
Verizon and the Doughboy Foundation partnered to bring our award winning WWI Teaching and Learning resources to middle and high school teachers
Verizon has partnered with the Doughboy Foundation's EdTech efforts through their Verizon Innovative Learning HQ. That program is targeting 10 million youths by 2030. It is a key partnership in helping us reach out across the country to the 275,000 middle and high school history teachers, as we offer them our unique and award winning WWI Teaching and Learning Resources.
"Pershing's Own" U.S. Army Band  played a "Summer 2022 Rush Hour Concert Series" at the WWI Memorial
Every Thursday this past summer different elements of the United States Army Band, "Pershing's Own", performed at the Memorial.  It became a popular end-of-day event in the city. We started to live-stream the concerts too. And, if you missed it, they will be back in the summer of 2023.
Bells of Peace 2022 was celebrated in cities, posts, churches and schools across the country
On 11 November at 11AM local, Bells of Peace rang around the country to mark the date and time of the Armistice in 1918. Many of these ceremonies were kick-off events for Veterans Day commemorations. Here in Washington at the WWI Memorial, we sounded a ship's bell and heard very powerful remarks from General Barry McCaffrey on why leaders MUST avoid war.
Our popular monthly Dispatch Newsletter continued to grow and expand
Starting with a humble subscriber list of just over 3.500 names in early 2017, the popular monthly Dispatch newsletter, a curation of WWI related articles and information, now goes to over 250,000 recipients every month with a distribution that has expanded approximately  20% in 2022.
We redesigned the entire website to serve our community better
We invite you to discover and explore last year's and upcoming programs on our completely redesigned website made to serve you better, faster, across all platforms and browsers.
You can now "Remember the Doughboys" in your planned giving
In 2022 we launched a Legacy Society planned giving program and have already received gifts which will be realized at the passing of the donor.
and a whole lot more…
Please consider a tax deductible year-end donation to help us continue the work.
All that was accomplished in 2022 was made possible through the support from our community of interested people like YOU.
We need your help to continue our mission to "Keep Faith With The American Doughboy" through our programs, projects and activities that educate the public about the importance and impact of America's participation in World War I.
Help us protect our future by remembering our past.
Happy New Year and with gratitude for your ongoing support of our work.
Dan Dayton
Chairman/CEO
The Doughboy Foundation