A newsletter from one of our fellow Canadian organizations in the Bay Area.
---
C100's 2019-2020 Impact Report has been Published! 
We're excited to announce that our 2019-2020 Impact Report has just been released. We can't wait for you read it and share our pride in what we've been able to accomplish with the community's support this last year and last decade.
2019 was a monumental year for C100 – we launched a new by-referral membership program to reach a new audience of global Canadians and we held 28 events to convene high-impact Canadians. We invite you to take a deeper dive into our full report on our past year and last decade as an organization. It's truly remarkable what we've been able to accomplish together.
While we take some time to reflect on what we've done, we're even more encouraged about the future of this community and continuing in our mission to build the preeminent global community for Canadians in tech.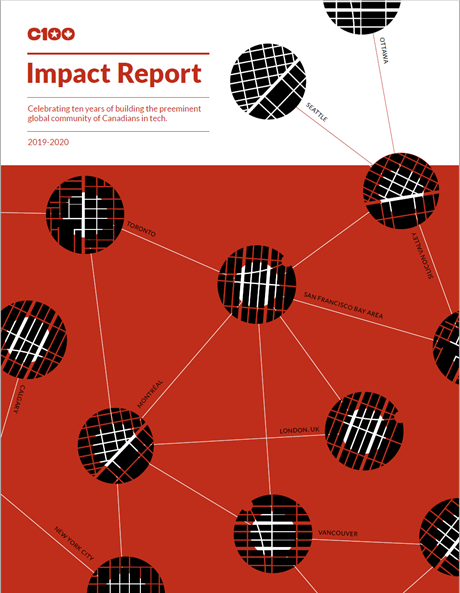 UPCOMING VIRTUAL ROUNDTABLE SCHEDULE
The COVID Pandemic: A Cyber-Criminal's "Nirvana"
Wednesday, July 8 @ 9am PT/12pm ET 
Join leaders in Cybersecurity to discuss the new threats of cybercrime and why the cybersecurity industry matters more than ever now. As companies keep workers home and industries like healthcare, defense and finance see cyber attacks on the rise, hear how the "white nights" of the tech sector are fighting back. Joining us are the Founder and CEO of Netskope, Sanjay Beri and Galina Antova, Co-Founder and Chief Business Development Officer, Claroty.
[C100 Member Exclusive] An Insider's Guide to M&A
Thursday, July 16 @ 9am PT/12pm PT
This is an invitation only event for C100's Members (Corporate Partners, Charter Members, and Members) 
Join Corporate Development and M&A leaders from Shopify and Facebook, as well as a 48Hrs in the Valley founder who was acquired by Xero to understand both sides of the "acquisition table". Hear why companies should be building relationships with corporate development teams even if not thinking about an acquisition in the near future, the challenges of combining different cultures during integration, and how CEOs can work with acquirers to build bigger and more successful businesses. Joining this discussion are Bram Sugarman, Director of Corporate Development & Strategic Partnerships at Shopify; Lara Cumberland, VP M&A Integration at Facebook; and Jamie Shulman, Co-Founder and CEO of Hubdoc which was acquired by Xero in 2018. This session will be moderated by Terry Doyle, GM International at Checkr.
This event is exclusive for C100 Members, you must be a member to join. If you are interested in membership, you can learn more below or here.
BECOME A MEMBER & MAKE AN IMPACT
C100's mission is to support, inspire, and connect the most promising Canadian entrepreneurial leaders through mentorship, investment, partnership, and talent.
Our members form the preeminent, global community of visionary Canadian entreprenenurs, operators and investors. Each brings something rich and unique to our ecosystem and fuels C100's role in supporting global Canadians as they build high-impact careers and remarkable organizations. 
Play a more active role the C100 ecosystem and benefit from opportunities for personal and professional development. Consider supporting C100's mission as a member.