This item from the Commonwealth War Graves Commission was brought to our attention recently, and we thought some of our members might be interested.
The original article is available at https://www.cwgc.org/our-work/blog/5-cwgc-sites-you-never-knew-existed-in-canada/
---
This Canada Day we wanted to highlight some of our sites out in Canada which commemorate those lost during the two World Wars. So, we asked Catherine Paterson, Work Manager for CWGC, to take us through five Canadian CWGC cemeteries and memorials which you probably never knew existed.
The CWGC commemorates over 18,900 war dead in Canada in almost 3,000 sites across the country. These servicemen and women died whilst training in Canada, from wounds or illness upon their return after serving overseas or were lost flying or sailing out of Canadian air bases and ports.
In recognition of Canada Day (01 July), here are five CWGC sites from across Canada that show the range in the kinds of sites where war dead are commemorated, from a single grave to a memorial with the names of over 3000 of the missing.
1. THE SINGLE WAR GRAVE
Visiting CWGC sites in Canada involves travelling over a vast geographical area to a range of different types of sites, including First Nations cemeteries, family farm burial grounds, churchyards, municipal cemeteries, urban columbaria, and memorials on the shores of the Atlantic and Pacific Oceans. War dead are buried in single graves, family plots, and military plots.
Of the 2850+ CWGC sites across Canada, 60% are cemeteries where only a single war dead is buried. Seen here is the grave of Lieutenant Roy Leslie Rogers, who died in 1919 and is the only war dead buried in the Oxbow Cemetery in Oxbow, Saskatchewan.
2. THE TRAINING CAMP
Between 1915 and 1917, more than 38,000 soldiers of the Canadian Expeditionary Force (CEF) received training at Camp Hughes in Carberry, Manitoba. Visitors today can see remnants of the trench system built to train soldiers prior to their mobilization overseas, where many later fought at Vimy and Passchendaele. On a slight raise of land, there is also a small fenced cemetery with the graves of six CEF soldiers who died while in training in the summer of 1916.
3. TRAINEE AIR CREW
During the Second World War, Australia, Britain, Canada, and New Zealand established the British Commonwealth Air Training Program (BCATP) that saw over 130,000 air crew trained in facilities across Canada. Several BCATP facilities had associated burial plots in local cemeteries for crew who died during training. One such plot is located in the Knox Presbyterian Cemetery which was nearby to the #1 Bombing and Gunnery School in Jarvis, Ontario. Between 1941 and 1945, 11 airmen of the Australian, British, Canadian and New Zealand Air Forces died while training out of Jarvis. Ten died in flying accidents and all 11 are buried in the Jarvis BCATP plot.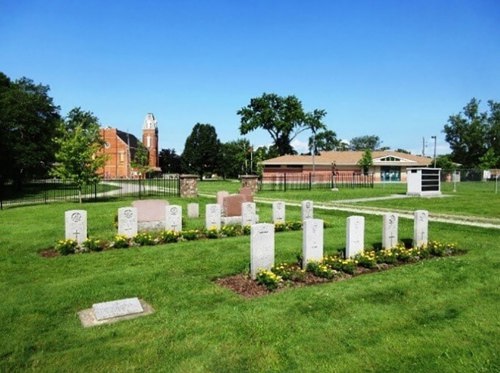 4. FIELD OF HONOUR
A common feature in Canadian cemeteries is a Field of Honour, many of which were established as soldier plots by communities during the First World War. A Cross of Sacrifice has been installed in 26 Fields of Honour across Canada. A Cross was erected in one of the Fields of Honour at Vancouver's Mountain View Cemetery in 1922. At first glance it appears similar to CWGC cemeteries around the world, but most Fields of Honour in Canada include both CWGC war dead and Canadian veterans whose headstones were provided by Veterans Affairs Canada. Mountain View has the largest concentration of military graves in Canada with 581 war dead and over 11,500 veterans.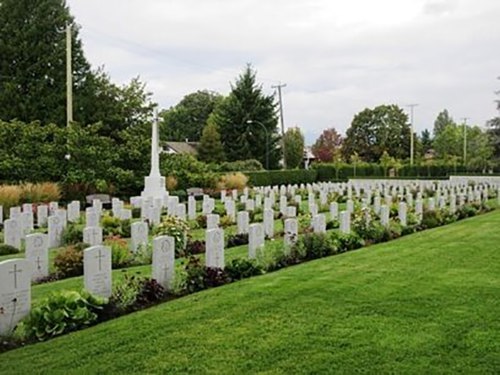 5. HALIFAX MEMORIAL
The Halifax Memorial, one of three memorials to the missing in Canada, commemorates more than 3140 soldiers, sailors, and nursing sisters who were lost at sea during both World Wars. It is located at the entrance to the Halifax Harbour which was the main port during both wars where Canadian troops embarked for Europe, naval convoys assembled and departed, and hospital ships returned with wounded casualties. Its location on the shore of the Atlantic Ocean was selected so that it is seen by all ships entering and leaving the harbour.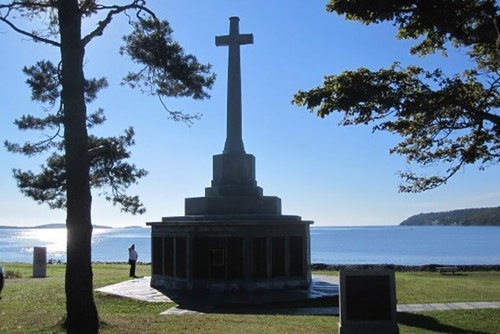 As part of our To The Four Corners project, Catherine Paterson filmed a first-hand view of what life is like during an inspection tour of our war cemeteries and isolated graves in Canada. Watch the video below to discover more.
The original article is available at https://www.cwgc.org/our-work/blog/5-cwgc-sites-you-never-knew-existed-in-canada/