This is a piece that members might find interesting concerning a Canadian World War I hero.
---
Wildfire
Tom Longboat was the greatest long-distance runner in the world in the years before the First World War. He died in 1949 back home on the Six Nations Reserve where he was born. He was inducted to the Canadian Sports Hall of Fame in 1955. In 2008, Ontario declared that from then on, June 4 would be known as Tom Longboat Day.
In honour of Tom Longboat Day, the first season of History Bits finishes strong with "Wildfire." Watch the episode now and don't forget to explore our collection of other resources for Indigenous History Month.
Cree Code Talkers
Inspired by "Wildfire"In this lesson inspired by the History Bits episode "Wildfire," students will expand their knowledge and dive deeper into lesser-known Indigenous histories in Canada, particularly those of Second World War Cree Code Talkers. Learn more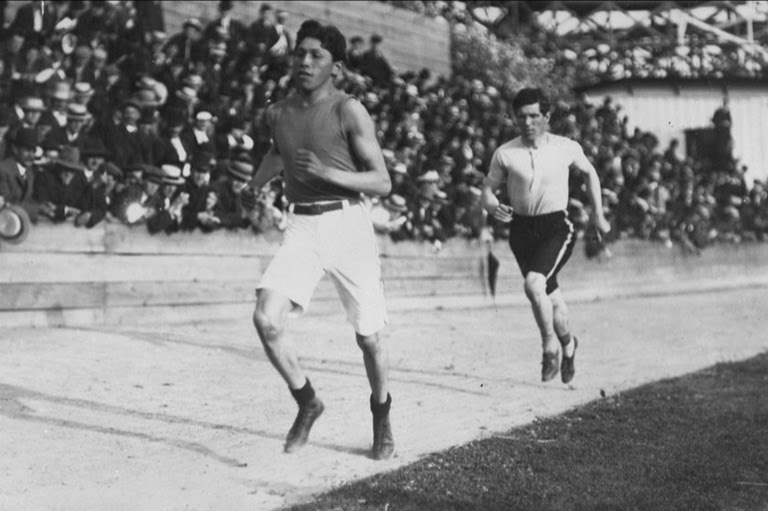 Who Do You Think I Am? A Story of Tom Longboat
Over the years, the legend of Tom Longboat has been revised from a mockery to an homage. Today he is presented as a superb athlete, an Onondagan who strode across the earth faster, further, and more gloriously than any man alive. Learn more
Truth and Reconciliation Week 2021
Produced in collaboration with the National Centre for Truth and ReconciliationThrough an allegorical graphic novel-style comic, written by Ry Moran, and illustrated by Swampy Cree artist Nickia McIvor, Truth and Reconciliation Week 2021 explores what it means to have guests arrive at your doorstep, and your home taken away, and how we can still find ways to live well together. Explore publication and educator's guide
Every Child Matters
Produced in collaboration with the National Centre for Truth and ReconciliationWritten by award-winning Indigenous author Monique Gray Smith, Every Child Matters: Reconciliation Through Education is based on the Seven Sacred Teachings and teaches children about residential schools, Treaties, and the historic and current relationships between Indigenous and non-Indigenous peoples. Explore publication and educator's guide
Treaties Publications
Introduce your students to different aspects of Treaty history with these special publications. Treaties and the Treaty Relationship is perfect for high school students, while We Are All Treaty People is geared towards younger learners. Learn more
14th Canada's History Forum
Called to Act: Truth, Reconciliation, and Collaboration
with special guest The Honourable Murray Sinclair
Saturday, June 4, 2022 from 2:00 p.m. to 5:00 p.m. CT
Join fellow teachers, historians, researchers, and community members for a conversation about truth and reconciliation.
---
The Canada's History Forum is open to the public and free to attend.
Please register to attend in-person or via livestream:
CanadasHistory.ca/HistoryForum
Did you get this newsletter from a friend? Sign up for your own and you'll be eligible to win a FREE book!
We have five uniquely curated newsletters, including ones for teachers and in French. Sign Up Now
© 2022 Canada's History, All rights reserved.
You are receiving this email as a member or friend of Canada's History. / Vous recevez ce courriel parce que vous êtes membre ou parce que vous appartenez à la communauté d'esprit de la Société Histoire Canada.

Our mailing address is:

Canada's History

Main Floor Bryce Hall, 515 Portage Avenue

Winnipeg, MB R3B 2E9

Canada