From the Wreaths Across America organization.
---
Listening During A Week of Controversy and Pain
For those of us who feel so strongly about supporting our military families, this has been a difficult week full of controversy and pain.
I read the news about a ninety-seven-year-old WWII veteran who explained why he chooses to take a knee in protest; and I have heard from many of our Gold Star families who know deeply the meaning of the our Anthem, as they watch the flag-drapped caskets of their loved ones return home.
Mostly – we want to listen. One of the best gifts received for being a part of the Wreaths Across America experience, has been learning life lessons from the people who put it all on the line, to protect our freedoms.
So we listen, and we learn from one another. There is an important conversation taking place in our Nation right now, and not the least of which, is a conversation about the values and appreciation of what it means to be an American.
So I encourage you to listen to your neighbors. And focus on what we have in common, and where we are in agreement.
We are many. We are one. We are Americans. I think that is one thing we can all agree upon. And we would like to hear what you think.
God Bless This United States of America.
~ Tobin Slaven – Editor of the WAA eNewsletter
& The Wreaths Across America Team
Did You Know: The WAA Museum Re-Opens With New Exhibits
In the Down East Maine area this fall? Come visit our new and improved Wreaths Across America Museum. Always free to the public and open on weekdays from 9-4.
This Week's News From WAA
| We are seeking up to 200 volunteers willing to dress in period attire on Saturday, December 16, 2017. You will need to provide your own authentic attire and will be assigned to a particular location within or around Arlington National Cemetery. | Please check-out our Wreaths Across America page and click "Donate" to place a wreath on a veterans grave on December 16th. ALSO, please share this page with your friends. Thanks for your support. |
| --- | --- |
It's only 81 days until National Wreaths Across America Day. With our #CountdownToWreathDay series we have been talking with volunteers, location coordinators, and WAA fundraising groups about their local efforts at each of the over 1200 participating locations nationwide.
Here's the stories from this past week:
Unsung: A life in the day of hard work- by Shell Rotella features Wreaths Across America Founder Morrill Worcester.
  ​
  ​

  ​

| A female Marine graduated from the Corps' grueling Infantry Officer Course Monday, marking a historic feat as the first woman to earn the 0302 infantry officer military occupational specialty. | Nothing is as important as family to a Soldier. We love you Dad, but this one goes out to Mom! "Mama Tried", written by Merle Haggard. | In the midst of the airing of the groundbreaking film series called The Vietnam War, the Vietnam Veterans Memorial Fund (VVMF) achieved a major milestone in remembering those who died. |
| --- | --- | --- |
Mark Your Calendars – Invite Your Friends
This Week's Trucking Tribute
When you learn about Brad Pinchuk's military service background, it's not hard to understand why his trucking company supports the Wreaths Across America mission to remember, honor, and teach.Brad served in the U.S. Army as a combat engineer during the first Gulf War, his father served our nation during the Vietnam War, and his grandfather during World War II.
  ​
  ​

  ​

We would love to hear from you on any of these channels:
Do you know of a patriotic story for or about our veterans, that we should be sharing? We would love to hear it!
Note: Have you ever had a conversation with a "reporter-bot?" We set this up to collect stories 24/7 or whenever it is convenient for you, and then the WAA Social Media Team can join the conversation. We look forward to hearing from you!
Did you miss one of our recent newsletters?
 You can see the archive and update your email settings (there is a MONTHLY or a WEEKLY option) in our 
new Newsletter Central
.
"Remember this…. In truth a person dies twice, once when he stops breathing, and a second time when somebody mentions his or her name for the last time. Join us in December when over one million volunteers nationwide, will say the names of a million fallen out loud, to make sure they will never be forgotten."
This Week's Newsletter Is Sponsored By: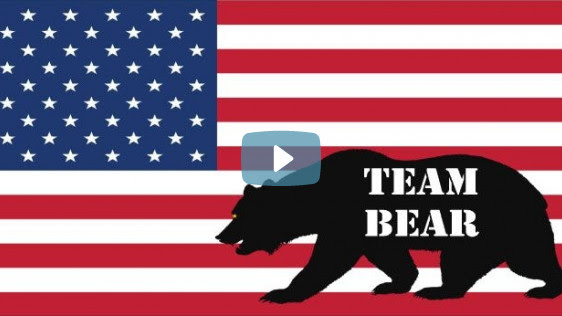 A grand achievement for Wreaths Across America – Official Page with the help of a woman from Va. Beach, Bre Kingsbury and leader of the Team Bear Fundraising Group. Bre is also leading a
 fundraiser in San Diego
 tomorrow if you can make it!
  ​
  ​

  ​