Note this update on the Bells of Peace app from the World War One Centennial Commission.
---
"Bells of Peace" Update for Participants
As a reminder, "Bells of Peace" is a U.S. national bell tolling remembrance that was created in collaboration with the Society of the Honor Guard, Tomb of the Unknown Soldier (SHGTUS) to commemorate the 100-year anniversary of the World War I Armistice, November 11, 2018.
The Doughboy Foundation has since promoted it as an annual remembrance of those who served in WWI and of the moment when the guns fell silent, and bells tolled on the Western Front… on the 11th day of the 11th month, at the 11th hour in 1918, after four years of brutal combat.
---
Join Us for "Bells of Peace" on ZOOM
In these difficult pandemic times, a number of people have reached out to us wanting to participate but concerned that getting groups together on Nov. 11th is perhaps unadvisable.
That got us thinking… Since we have all gotten good at doing things in a digitally distanced way, why not adapt Bells of Peace to a Zoom Event?
We have put together a lovely 35-40 minute program of music and remembrance leading to a 21 bell tolling. This is followed by a moment of reflection and ends with an invitation for attendees to share their individual thoughts about what Veteran remembrance means to them.
YOU ARE INVITED TO JOIN US as we hold a Bells of Peace ceremony on Zoom at 11am local for each time zone. We will start at 10:45 am Eastern and repeat every hour for Central, Mountain, Pacific, Alaska and Hawaii.
Links to Bells of Peace Zoom Ceremonies on November 11, 2020
INSTRUCTIONS: Download the Bells of Peace Participation App on your smartphone and register (see below), or go to the Bells of Peace 2020 home page and click on Uncle Sam to register. We will be sending link reminders for the Bells of Peace on ZOOM to everyone who has pledge to toll the bells!
---
2020 Participant Logos Are Posted…
If you registered on the website at ww1cc.org/bells as an organization and submitted your logo, the 2020 logo roll is up on the web site now.
---
We Are Reposting Your Social Media Online And in the Participation App
As you use the hashtag #BellsOfPeace, your posts in Facebook, Instagram, Twitter or Youtube, they come into our Bells of Peace dashboard and we are reposting them both ONLINE and IN THE APP. You'll also find the 100-day countdown stories leading up to the armistice here.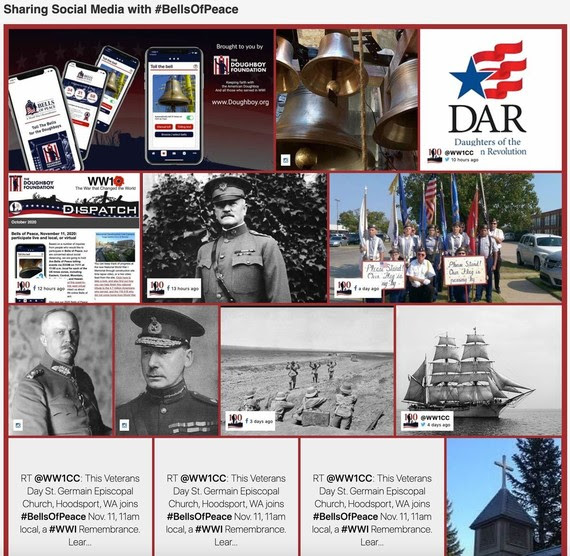 ---
View Your Stories / Posts In the Participation App
Look under the sharing button (looks like a camera) for the same stories and shares.
This is where you can share your Bells of Peace participation, thoughts and comments.
You can use your own Social Media posts on Facebook, Instagram, Twitter or YouTube and use the hashtag or @ BellsOfPeace.
We monitor for these posts and send them to both the web page above and directly into the App.
If you don't use social media, you can create a post directly in the app on this page using your photo and video library on your phone. It's easy.
This initiative is intended to create a community of participation and although this is really the first non-centennial year, we are off to a great start with YOUR participation.
Coordination, Sharing and Participation
Through the App
If you registered through the website, but have not downloaded the Bells of Peace Participation App, please join the thousands of others who have. You can find it for iOS or Android smartphone at the AppStore or GooglePlay store by searching for "Bells of Peace" or click on the badges below (from your phone).