Note the initial item about women on the homefront that may be of interest to members.
---
Weekly Ritual | Basketball's Best | Quilt
Feminists on the Homefront
Post-war women went to work. They won the vote. Then the movement stalled. Read more
Quilt
This quilt was handmade for a historian working for the Hudson's Bay Company. Read more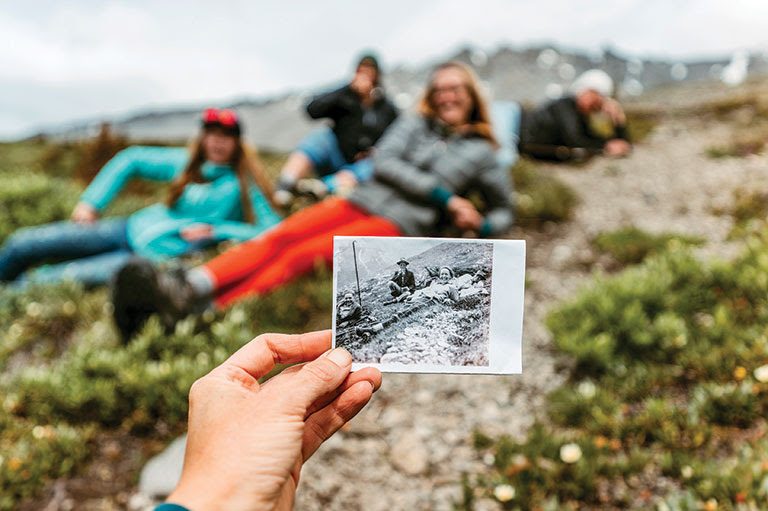 Brushes with Climate Change
Rockies Repeat project explores the intersection between conservation, art, history, and culture. Read more
Montreal's Designing Women
In the 1960s, Montreal was a Modern architectural showcase. From Place Ville Marie to Place Bonaventure to Expo 67, the city reverberated with the construction of new and remarkable buildings. Read more
Basketball's Best
It started with a high school girls' basketball team in Edmonton, and ended with one of the best winning records ever. Read more
Washday: The Weekly Ritual
For generations, society has historically expected women to not only do the laundry — but to do it well. Read more
Start your subscription today and get your first issue free!
Canada's History Archive featuring The Beaver
Please note:
 Some items featured in our newsletters and social media will include links to the Canada's History Archive. 
The Beaver
 magazine was founded, and for decades was published, during eras shaped by colonialism. Concepts such as racial, cultural, or gender equality were rarely, if ever, considered by the magazine or its contributors. In earlier issues, readers will find comments and terms now considered to be derogatory. Canada's History Society cautions readers to explore the archive using 
historical thinking concepts
 — not only analyzing the content but asking questions of who shaped the content and why.
Did you get this newsletter from a friend? Sign up for your own and you'll be eligible to win a FREE book!
We have five uniquely curated newsletters, including ones for teachers and in French. Sign Up Now
View this email in your browser
Copyright © 2021 Canada's History, all rights reserved.
You are receiving this email as a member or friend of Canada's History. / Vous recevez ce courriel parce que vous êtes membre ou parce que vous appartenez à la communauté d'esprit de la Société Histoire Canada.
Our mailing address is:
Canada's History
Main Floor Bryce Hall, 515 Portage Avenue
Winnipeg, MB R3B 2E9
Canada