An update from Dominion Command to its branches (note that items only relevant to branch executive or for Canadian branches have been removed).
---
40% of Legion members have yet to renew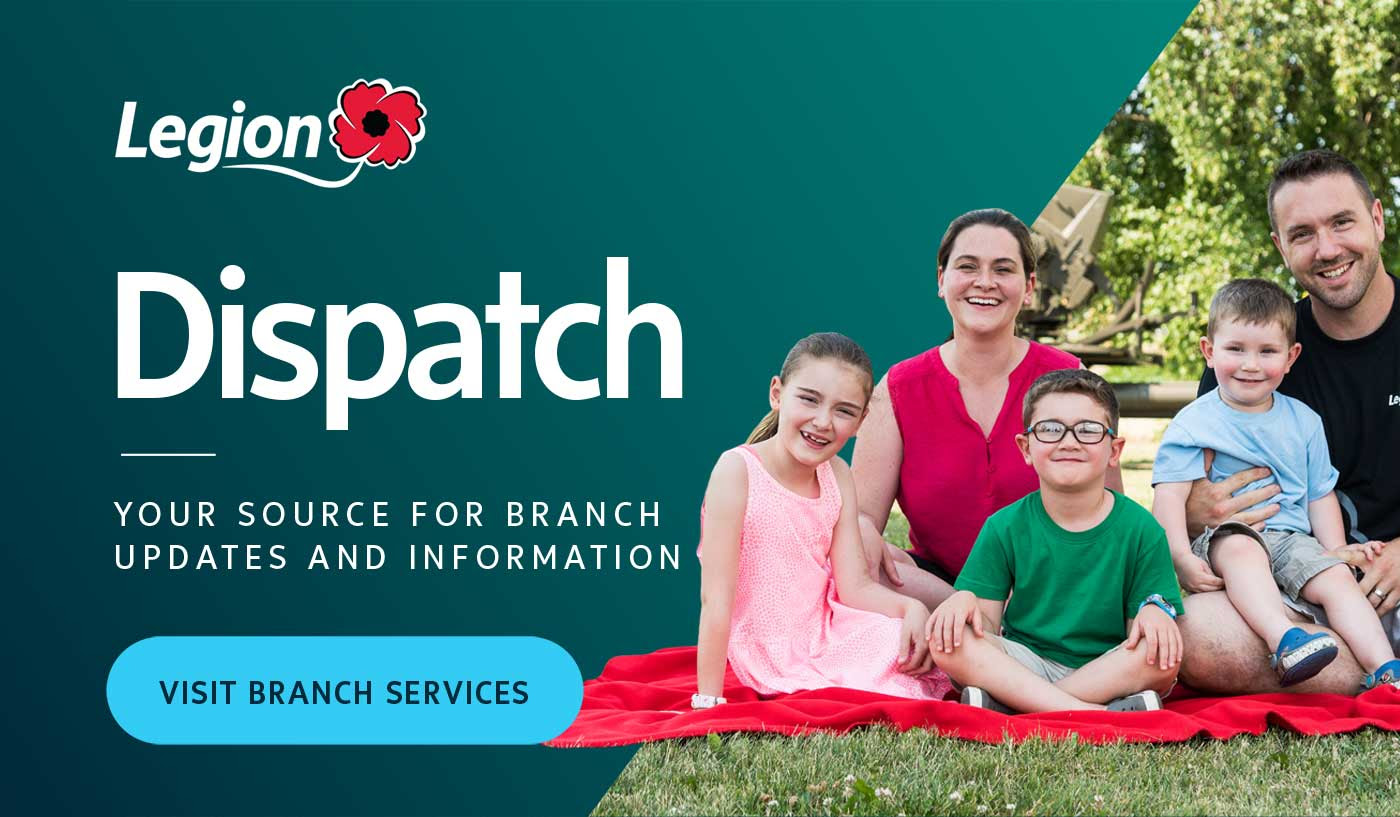 Share this email
Keep your Branch informed
Forward this email to your Branch Executives, Committee Members and other members to keep them up-to-date on important updates and information.
All Branch emails are also available on the Member Services Website
In this edition – January 2023
40% of Legion members have yet to renew for 2023
A renewal reminder will be mailed in early February to members who have not yet renewed for 2023. Additionally, you can encourage your Branch members to renew by:
3rd week of September named National Legion Week
At the November 2022 Dominion Executive Council meeting, DEC carried the motion that "commencing in 2023, the 3rd week of September be pronounced as National Legion Week across Canada, allowing all Commands and Branches to consistently participate to attract and welcome Canadians to the Royal Canadian Legion."
More information and marketing materials will be provided at a later date.
Help spread the word – Veterans' families get first year of membership free!
Do you know a spouse, child over 18 years of age, parent or guardian of a Canadian Veteran who has not yet joined the Legion? Let them know we offer the first year of membership free to Veteran Family Members. Encourage them to register and get to know their Legion!
Promotional poster  ‣ | Register online  ‣ | Registration form  ‣
Ross Munro Award: Call for nominations
The Ross Munro Award recognizes Canadians whose outstanding work in journalism, videography, photojournalism or writing represents the very best in defense and security storytelling.
Nominations for the award are being accepted until January 31. If you know someone whose work may be eligible, please pass this information on.
Learn more  ‣
Branch Membership Administration
Resources and tips to support your Membership Chair
+ The Auto Renew process is complete
The Auto Renew process is now complete and has billed all members who have signed up for auto renew with valid credit card information on file.
If you have a member who signed up for Auto Renew but does not have their 2023 membership year processed, the branch can collect their 2023 membership payment OR the member can renew online or contact Member Services by phone at 855-330-3344.
Branches can view all members who renewed online and by auto renewal on the Member Services Website under Reports / Membership – Branch Online Member Renewals [PDF].
+ 2022 Membership Numbers
2022 Final Membership Numbers will be available on the Member Services Website the first week of February. Please ensure your Branch memberships have been processed through Member Services by January 31.
+ New membership training tools
Five new training videos are now available to assist in processing members on the membership website. They can be found on the Member Services Website under Branch and Command Resources/Membership by clicking on New! Membership training videos.
+ New Digital Membership Card now available!
Over 10,000 Legion Members have already signed up for the Digital Card!
Members can now choose a traditional plastic card or a Digital Card. Learn about the Digital Card technical requirements, how to request a card, branch notification and more!
Get all the details  ‣
Get access to Marketing and PR resources
Promote membership with free Branch resources
Order FREE recruitment and retention resources through the Legion Supply Department to help promote membership at your Branch.
Check out our flyer  ‣
PR Tip of the Month
Discuss before taking on media interviews
Check with your Branch President or Provincial Command before agreeing to do a media interivew. Discuss with your local and regional leadership teams before taking on a serious or controversial topic.
Have questions or need advice? Contact your Command Public Relations Officer or Nujma Bond, Dominion Command Communications at nbond@legion.ca
Your Legion calendar
The 2023 Legion calendar of notable dates is now available. Promote important dates and organize activities at your Branch with this list of upcoming days that raise awareness of an issue, commemorate a group or event, or celebrate an important topic.
Download your copy to help with Branch planning for the new year.
Download the 2023 calendar  ‣
MemberPerks®: Exclusive offers and preferred pricing through Venngo
MemberPerks® is more than a member benefit package. It's also a tool Branches can use to promote membership. Plus, you can partner with local businesses in your community to offer exclusive discounts for your members.
Learn more  ‣
Partner promotions
The following is brought to you by our partners, highlighting special offers and other information.
Special offer from Legion Magazine
If you have any questions, please contact Member Services and we will be pleased to assist. 1-855-330-3344 or membership@legion.ca
Office Hours: Monday – Friday, 8:30 a.m. – 4:30 p.m. EST
Working together to serve Canada's Veterans.
Click here if you are having trouble viewing this message

Copyright © 2023 The Royal Canadian Legion. All rights reserved.

Administrative emails from Legion National Headquarters are sent to the email address on file for your local Legion Branch. If this is no longer the correct email address for your Branch, please forward this email to the new contact and request the Branch update their contact information.

The Branch may update the email address at any time by updating their Branch Profile on the Member Services Website or by contacting Member Services. Learn more about All Branch emails.

Our contact information is:
The Royal Canadian Legion National Headquarters
Member Services Department
86 Aird Place
Ottawa, ON K2L 0A1
Canada

Toll free: 855‑330‑3344
E-mail: membership@legion.ca