Sharing this newsletter from another Canadian veterans organization.
---

| | |
| --- | --- |
| March 24, 2017 |   |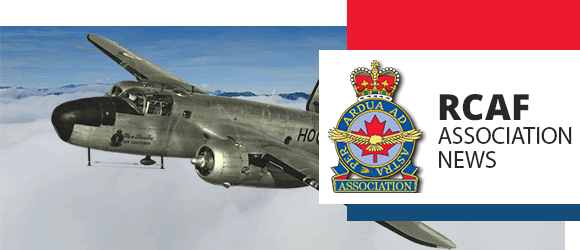 ---
| | |
| --- | --- |
| 436 Squadron trains and wins in Arkansas | |
Government of Canada
Seventy-one personnel from 8 Wing Trenton, Ontario, including members of 436 Transport Squadron, recently travelled to Little Rock, Arkansas, and Alexandria, Louisiana, to take part in Exercise Green Flag Little Rock (GFLR) 17-04. Hosted by the United States Air Force's 34th Combat Training Squadron, the exercise involved approximately 4,300 personnel from six USAF bases, the U.S. Army, the U.S. Marine Corps, the British Army and the Royal Canadian Air Force in a scenario-based, highly dynamic coalition event.  READ MORE
| | |
| --- | --- |
| EntraÎnement et victoire du 436e Escadron en Arkansas | |
Gouvernement du Canada
Soixante-et-onze membres du personnel de la 8e Escadre Trenton, en Ontario, dont des membres du 436e Escadron de transport, se sont rendus à Little Rock, en Arkansas, et à Alexandria, en Louisianne, pour participer à l'exercice Green Flag Little Rock (GFLR) 17-04, qui s'est déroulé du 7 au 19 février 2017. Organisé par le 34e Escadron d'entraînement au combat de l'United States Air Force, cet exercice regroupait environ 4 300 membres du personnel de six bases de l'USAF, de l'U.S. Army, de l'U.S. Marine Corps, de l'armée britannique et de l'Aviation royale canadienne dans le cadre d'activités de coalition hautement dynamiques et axées sur des scénarios. LIRE PLUS
| | |
| --- | --- |
| New satellite will enhance Canadian Armed Forces' communications capabilities | |
Government of Canada
Representatives from the Canadian Armed Forces (CAF) and Department of National Defence (DND) were on hand at Cape Canaveral, Florida, on March 18, 2017, to witness the launch of the ninth Wideband Global Satellite Communication (WGS-9) constellation satellite. A United States Delta IV rocket was used to launch the WGS-9 at 8:18 p.m. from the United States Air Force Space and Missiles System Center in Cape Canaveral. The satellite will aid in meeting CAF strategic satellite communications (Satcom) requirements for many years into the future.  READ MORE
| | |
| --- | --- |
| Un nouveau satellite renforce les capacités des Forces armées canadiennes en matière de communications | |
Gouvernement du Canada
Des représentants des Forces armées canadiennes (FAC) et du ministère de la Défense nationale (MDN) se trouvaient à Cap Canaveral, en Floride, le 18 mars 2017, pour assister au lancement du neuvième satellite de la constellation du système mondial de communications par satellites à large bande (WGS-9). Une fusée Delta IV des États-Unis a permis de lancer le satellite WGS-9 à 20h18, au Space and Missiles System Center de la United States Air Force, à Cap Canaveral. Ce satellite contribuera à répondre aux besoins des FAC en matière de télécommunications par satellite (SATCOM) stratégiques pendant de nombreuses années. LIRE PLUS
| | |
| --- | --- |
| RCAF supports Vimy Flight Association | |
Government of Canada
As part of the Veterans Affairs Canada-led ceremony to mark the 100th anniversary of the Battle of Vimy Ridge, the Royal Canadian Air Force (RCAF) is supporting the Vimy Flight Association (VFA) as they fly five replica First World War aircraft past the Vimy Ridge Memorial in France on April 9, 2017. The RCAF is providing airlift support for seven VFA replica aircraft — two Sopwith Pups, four Nieuport 11s, and one SE5 — to France aboard a CC-177 Globemaster III in time for the commemorative activities.  READ MORE
| | |
| --- | --- |
| L'ARC soutient la Vimy Flight Association | |
Gouvernement du Canada
Dans le cadre de la cérémonie du 100e anniversaire de la bataille de la crête de Vimy dirigée par Anciens Combattants Canada, l'Aviation royale canadienne (ARC) soutient la Vimy Flight Association (VFA), qui pilotera cinq répliques des aéronefs de la Première Guerre mondiale au-dessus du Monument national du Canada à Vimy, en France, le 9 avril 2017. L'ARC transporte sept avions de la VFA, à savoir deux Sopwith Pup, quatre Nieuport XI et un SE5, en France à bord d'un CC-177 Globemaster III en vue de leur participation aux activités de célébration. LIRE PLUS
| | |
| --- | --- |
| Trump picks Boeing exec to be deputy secretary of defense | |
New York Post
President Trump has named a Boeing executive to be a top Pentagon official, the White House has announced. Boeing Company senior vice president Patrick M. Shanahan has been named the next deputy secretary of defense.  READ MORE
| | |
| --- | --- |
| Operation innovation: The RCAF's pursuit of transformative change | |
Skies
When Ashton Carter was sworn in as U.S. Secretary of Defense, he urged the Pentagon to "think outside this five-sided box" and set about, as one of his top priorities, "stoking its innovative culture." Along with renewed investment in research and development, Carter stood up the Defense Innovation Unit-Experimental, or DIUx, an initiative to accelerate the growth of new capabilities for the warfighter by connecting the Pentagon with technology hubs in Silicon Valley, Boston and Austin, Texas.  READ MORE
| | |
| --- | --- |
| Trump critique of F-35 costs 'fair,' says Lockheed CEO Hewson | |
Defense News
President Donald Trump's criticism about the pricetag of the F-35 "was fair," said Lockheed Martin CEO Marillyn Hewson, though she stopped short of confirming whether his demands for cost cuts actually influenced reductions. Hewson, in an interview with Defense News, credited Trump for his astute understanding of volume and the need to drive costs down — an understanding that comes with business savvy, she noted.  READ MORE
| | |
| --- | --- |
| Air Force arsenal of land-based nukes shrinking as planned | |
Metro News
The Air Force is quietly shrinking its deployed force of land-based nuclear missiles as part of a holdover Obama administration plan to comply with an arms control treaty with Russia. The reductions are nearing completion despite President Donald Trump's argument that the treaty gives Moscow an unfair advantage in nuclear firepower.  READ MORE
---
| | |
| --- | --- |
| The Sky's No Limit — Girls Fly Too! 2017 | |
Legion Members,
We are requesting your support for The Sky's No Limit — Girls Fly Too! 2017 FREE community event on March 11-12, 2017 at the Abbotsford International Airport. This the world's largest outreach event to inspire gender and cultural diversity in Aviation, Aerospace, Marine and Defence. Held annually during the week of International Women's Day, our EPIC events are family-friendly and change lives!
The event attracts thousands of participants from the Lower Mainland/Fraser Valley as well as other locations in British Columbia and Washington State. Free flights are offered to female first time fliers of all ages to draw them to the airport and pique their interest in further exploring the ground displays. All participants — male and female — are encouraged to try their hand at the many interactive Aviation, Aerospace, Marine and Defence activities. Civilian and non-civilian agencies and VIP's will be on hand with aircraft and ground support/tactical vehicles to explore.
Volunteers are needed for The Sky's No Limit — Girls Fly Too! You can volunteer for a few hours, two days, or more if you'd like to help before and after the event. There are lots of interesting and fun volunteer opportunities available. For more information and to register as a volunteer, check us out at www.girlsfly2.ca. Volunteers of any gender, age, skill and physical abilities are welcome — we will work with you to find a position that you'll enjoy.
This exciting event is being held March 11-12 in Abbotsford, B.C., and we knew you would want your members and friends to know about it. Feel free to share the exciting news about this non-profit free event, we hope you get the opportunity to come and visit us during The Sky's No Limit — Girls Fly Too!
Best Regards,
Linda Gilzean
www.girlsfly2.ca
www.facebook.com/SkysNoLimitGirlsFlyToo
@GirlsFly_Too
Event Poster
Participation 2017
Volunteer Information
Volunteer Waiver & Consent Form
Check this out: U.S. Navy diver decided she had the skills to build space stations (Achieve Anything Foundation & The Sky's No Limit — Girls Fly Too!)
| | |
| --- | --- |
| 442 Squadron 75th Anniversary/Reunion | |
Attention all ex- and currently-serving members of 442 Transport and Rescue Sqn/ 121 KU/ 442 Auxiliary Fighter Sqn/ Number 14 Fighter Sqn. We will be celebrating 75 years of service to Canada with a squadron reunion. The 75th Reunion celebrations will take place from June 2-4, 2017, in Comox B.C. For more information or interest, please contact Capt. Corey McPhee at 442sqn75th@gmail.com and follow us on Facebook at 442 Squadron 75th Anniversary (@442Sqn75th) as more details become available.
| | |
| --- | --- |
| RCAF Airwomen's 13th Reunion | |
RCAF Airwomen's 13th Reunion will be held in Moncton, NB, from June 2-4, 2017. For more information, contact:
Glen Cole
911-800 Chieftain St.
Woodstock, ON, N4T 1T8
E-mail: glencole@bell.net
Phone 1-519-290-0352
Please visit this website for more information: http://www.rcafairwomen.ca/Reunion_13_Letter.php
| | |
| --- | --- |
| 426 Training and Transport Squadron 75th Anniversary | |
Calling all Thunderbirds home to the nest!! This year, we're celebrating our 75th anniversary and are hoping to have the flock come home to help us remember our history and heritage. Please mark Oct. 20-22 in your calendar and join us for a huge party. If you have humorous stories or anecdotes to share, please send them to the following address:
MWO Christine Krueger
426 Sqn 8 Wing/CFB Trenton
PO Box 1000, Stn Forces
Astra, ON, Canada K0K 3W0
christine.krueger@forces.gc.ca
| | |
| --- | --- |
| 'I wouldn't be here if I hadn't been an Air Cadet' | |
Air Cadet League of Canada
Were you an Air Cadet? The Air Cadet League wants to know where being an Air Cadet has taken you; join the Air Cadet Alumni and share your "Cadet Story" with us.  READ MORE
---
Missed last week's issue? See which articles your colleagues read most.
Don't be left behind. Click here to see what else you missed.
---