From the RCAF Association.
---
| | |
| --- | --- |
| November 24, 2017 |     |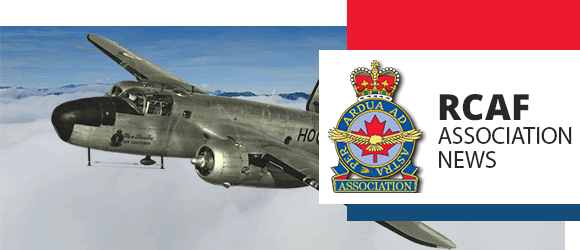 ---
| | |
| --- | --- |
| 75 years of conquering the skies | |
Government of Canada 
As Lieutenant-General Michael Hood, commander of the Royal Canadian Air Force, took to the podium to address the Bisons — members of 429 Transport Squadron — on parade, aircraft engines roared outside the hangar. "Great timing on the aircraft start up!" he observed with a laugh. That's the nature of the business at 8 Wing Trenton, Ontario. On Nov. 7, 2017, 429 Squadron, one of the wing's busiest squadrons celebrated its 75th birthday — 75 years of being a global leader in aviation and embodying the most important Canadian values. The squadron celebrated with a variety of events to mark the anniversary, to which current and former Bisons were invited.  READ MORE
| | |
| --- | --- |
| À la conquête du ciel depuis 75 ans | |
Gouvernement du Canada
Lorsque le lieutenant-général Michael Hood, commandant de l'Aviation royale canadienne, est monté sur le podium pour s'adresser aux Bisons, soit les militaires du 429e Escadron de transport, des moteurs d'aéronef ont commencé à rugir à l'extérieur du hangar. « C'est un excellent moment pour lancer les moteurs! » a dit le commandant en riant. C'est ainsi que va la vie à la 8e Escadre Trenton, en Ontario. Le 7 novembre 2017, le 429e Escadron, une des unités les plus occupées de l'escadre, a célébré son 75e anniversaire : 75 ans passés à titre de chef de file mondial dans le secteur de l'aviation en incarnant les valeurs primordiales du Canada. L'escadron a souligné l'événement en tenant toute une gamme d'activités auxquelles ont pu participer les Bisons d'aujourd'hui et d'hier. LIRE PLUS
| | |
| --- | --- |
| RCAF and RAF Americans inducted into Colorado Aviation Hall of Fame | |
Government of Canada 
Last month I travelled to Denver, Colorado, for the induction into the Colorado Aviation Hall of Fame of 10 Royal Canadian Air Force and Royal Air Force airmen from Colorado. I represented the Bomber Command Museum of Canada (BCMC), located in Nanton, Alberta, because we were one of the main sponsors of the induction ceremony, held on Oct. 14, 2017. John Stemple of Florida, a member of the BCMC, and the Colorado Aviation Historical Society, directed by Lance Barber and his staff, were the other main sponsors.  READ MORE
| | |
| --- | --- |
| Des Américains de l'ARC et de la RAF font leur entrée au Colorado Aviation Hall of Fame | |
Gouvernement du Canada
Le mois dernier, je me suis rendu à Denver, au Colorado, pour assister à l'intronisation au Colorado Aviation Hall of Fame (temple de la renommée de l'aviation du Colorado) de dix aviateurs de cet État qui ont fait partie de l'Aviation royale du Canada et de la Royal Air Force. Je représentais le Musée canadien du Bomber Command, qui se trouve à Nanton, en Alberta, parce que le musée était l'un des principaux commanditaires de la cérémonie d'intronisation qui s'est déroulée le 14 octobre 2017. John Stemple, de Floride, membre du Musée canadien du Bomber Command, et la Colorado Aviation Historical Society, dirigée par Lance Barber et son personnel, étaient les autres commanditaires importants. LIRE PLUS
| | |
| --- | --- |
| Veterans Ombudsman 2016-2017 Annual Report tabled | |
Government of Canada 
The Veterans Ombudsman's 2016-2017 Annual Report was recently tabled in the House of Commons by the Minister of Veterans Affairs. The Report covers all activities of the Veterans Ombudsman from April 1, 2016 to March 31, 2017 demonstrating the Office of the Veterans Ombudsman's influence in effecting change and informing policy for Veterans and their families. Not only does it encapsulate 2016-2017 achievements, it is also a bridge to what lies ahead in 2017-2018.  READ MORE
| | |
| --- | --- |
| Présentation du Rapport annuel 2016-2017 de l'ombudsman des vétérans | |
Gouvernement du Canada 
Le ministre des Anciens Combattants a déposé hier le Rapport annuel 2016-2017 de l'ombudsman des vétérans à la Chambre des communes. Le Rapport porte sur l'ensemble des activités réalisées par l'ombudsman des vétérans du 1er avril 2016 au 31 mars 2017 qui démontrent l'influence qu'a le Bureau de l'ombudsman des vétérans sur l'apport de changements et l'élaboration de politiques pour les vétérans et leur famille. Non seulement on y retrouve les réalisations de 2016-2017, mais encore, on y fait le lien avec ce qui est à prévoir en 2017 2018. LIRE PLUS
| | |
| --- | --- |
| Canada is forging a new peacekeeping path | |
CBC News 
In its newly announced commitment to UN peacekeeping, Canada has recognized that the nature of peacekeeping has changed and therefore new approaches are required beyond the traditional "boots on the ground." As a nation, Canada has always led — not with the number of battalions that are in the field, but with innovative solutions to the problems presented by the conflicts of the day. From Canada's creeping barrage that broke the intractable deadlock of trench warfare in World War I to the world's first peacekeeping mission deployed at the onset of the Cold War era, Canada has always presented timely and innovative solutions.  READ MORE
| | |
| --- | --- |
| Canada's peacekeeping commitment affects possible UN Security Council bid | |
National Newswatch
Canada's new commitment to United Nations peacekeeping has left some international observers questioning whether it will be enough to accomplish another big foreign policy goal: eventually winning a seat on the UN Security Council. After promising a year ago to provide UN peace operations with up to 600 troops and 150 police officers, the Trudeau government announced this week plans for a rapid reaction force of just 200 soldiers, as well as the services of six helicopters and two transport aircraft, including necessary personnel. Where those soldiers would go remains an open question.  READ MORE
| | |
| --- | --- |
| Defence spending as a share of economy set to shrink as economy booms | |
CBC News 
The red-hot Canadian economy is throwing many of the Liberal government's carefully-crafted defence spending projections out the window, a recently-released Parliamentary Budget Office analysis shows. Prior to the release of the government's defence policy last spring, Canada was under enormous pressure, notably by U.S. President Donald Trump, to meet the NATO benchmark of setting aside two per cent of the gross domestic product for spending in the military.  READ MORE
| | |
| --- | --- |
| 16 high-tech F-35B stealth fighters now deployed to Japan | |
Stars and Stripes 
The Marine Corps finished deploying a squadron of state-of-the-art stealth fighters to Japan Wednesday with the arrival of three F-35B Lighting IIs at Marine Corps Air Station Iwakuni. Marine Fighter Attack Squadron 121, which began flying its F-35Bs to the air station in January, now has a full complement of 16 aircraft.  READ MORE
---
| | |
| --- | --- |
| 100th anniversary of the Royal Air Force now includes a third airshow — the Shuttleworth Collection's 'military pageant' | |
Ian Allan Travel 
On Aug. 17, 1917, South African General Jan Smuts presented a report to the British government's War Council setting out his ideas on the future of air power. The report was duly approved and led to the formation of the world's first air force being born on the April 1, 1918. The Royal Air Force (RAF) was formed by the amalgamation of the squadrons and military personnel of the British Army's "Royal Flying Corps" (RFC) with the Royal Navy's "Royal Naval Air Service" (RNAS).  READ MORE
| | |
| --- | --- |
| Sea King Retirement | |
Sea King Retirement Committee
After more than 50 years of service, the Sea King will be retired December 2018 at 443MH Victoria. Advance planning is underway. Visit www.skr18.ca for updates.
| | |
| --- | --- |
| 'I wouldn't be here if I hadn't been an Air Cadet' | |
Air Cadet League of Canada 
Were you an Air Cadet? The Air Cadet League wants to know where being an Air Cadet has taken you; join the Air Cadet Alumni and share your "Cadet Story" with us.  READ MORE
---
---