An announcement from the Canada History magazine.  Note the item below entitled "Beyond the Trenches."
---
Interpreting the Indian Act
A new exhibit at the Canadian Museum for Human Rights in Winnipeg identifies issues with the Indian Act and challenges people to think about its historical and continuing impacts on Indigenous people across Canada.
Read more
Beyond the Trenches
As Canadians mark the centennial of the end of the "war to end all wars," here are some national historic sites on the home front that enrich and enhance our knowledge of the First World War.
Read more
Ottawa's Blue Sea Bog
Just ten kilometres southeast of Parliament Hill, the Mer Bleue Bog is known as the "hidden jewel" of Ottawa's greenbelt. Explore one of its many trails to discover a boreal landscape that is atypical for this region. Read more
Advertisement
Blackfoot Legacy
One hour east of Calgary, on Alberta's Siksika Nation, is Blackfoot Crossing Historical Park. The cultural, educational, and entertainment centre promotes and preserves the Siksika Nation Peoples' language, culture, and traditions. Read more
Ghosts of Gold
When Allen Macartney embarked on a 1,500 kilometre solo canoe and hiking trip to retrace the Klondike gold rush route, he encountered the ruins and relics of mining settlements that at one time were bustling spots in Yukon.
Read more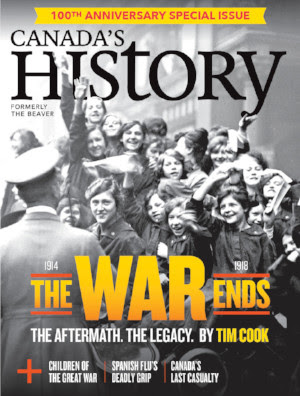 Start your subscription today and get your first issue free!
Did you get this newsletter from a friend? Sign up for your own and you'll be eligible to win a FREE book!
We have five uniquely curated newsletters, including ones for teachers and in French. Sign Up Now
View this email in your browser
Copyright © 2018 Canada's History, all rights reserved.
You are receiving this email as a member or friend of Canada's History. / Vous recevez ce courriel parce que vous êtes membre ou parce que vous appartenez à la communauté d'esprit de la Société Histoire Canada.
Our mailing address is:
Canada's History
Main Floor Bryce Hall, 515 Portage Avenue
Winnipeg, MB R3B 2E9
Canada