An item from a fellow veterans organization in the Bay Area.
---
As we approach the Diamond Anniversary of the Marines' Memorial this November, we're taking the time to reflect on the past 75 years. Through wars, recessions, civil unrest and, most recently, a worldwide pandemic, the Marines' Memorial has stood resolute and unwavering in honor of all who have served.
The history of our nation and our Armed Forces are the lifeblood of this Living Memorial. Around every corner, in every hall, on every floor, our mission to Commemorate, Educate and Serve shines brightly.
To celebrate, we invite you to join us on this historical commemoration of your Club "Marines' Memorial: 75 Years in the Making." From now until November, you will receive monthly emails giving insight into a special part of the history of your Club. The stories told and the memories made under the roof at 609 Sutter are priceless. Thank you for an incredible 75 years!
For the first installment, we wanted to take you back (WAY BACK!) to before World War II and the need for a Living Memorial in San Francisco arose.  This building we know and love was something VERY different before our founding in 1946…
In 1923, the City and County Federation of Women's Clubs decided to erect a building "at the Southwest corner of Sutter and Mason" and "designed as a club home for the women of the State." Originally budgeted for $1,000,000, this building took a little more than 3 years to complete, finally costing $1,750,000 with a grand opening held on May 31, 1927.
The purpose of the San Francisco Women's Club is very much the same as the Marines' Memorial! The many rooms, auditoriums and dining facilities were for "lectures, forums and discussions of public interest." Once opened, there was "not a woman in California but will find some features of interest to her…as an exclusive place to dine and entertain…offer personal contact with cultural ideas and people… (and) out-of-town women will find it a comfortable home, admirably situated in the heart of city life."
During World War II, the then-named Western Women's Club became a part of The United States Naval Reserve (Women's Reserve), better known as WAVES (Women Accepted for Volunteer Emergency Service). The women of WAVES hosted many members of the United States Marine Corps through WWII until those same Marines purchased the building in early 1946.
Without the women who began the planning for this building in the Roaring 20's, who knows what our modern-day Marines' Memorial would look like! Take a look at some of the original newspaper articles about the women's club below!  To see larger versions of these and other articles, visit our Marines' Memorial Foundation Facebook page HERE.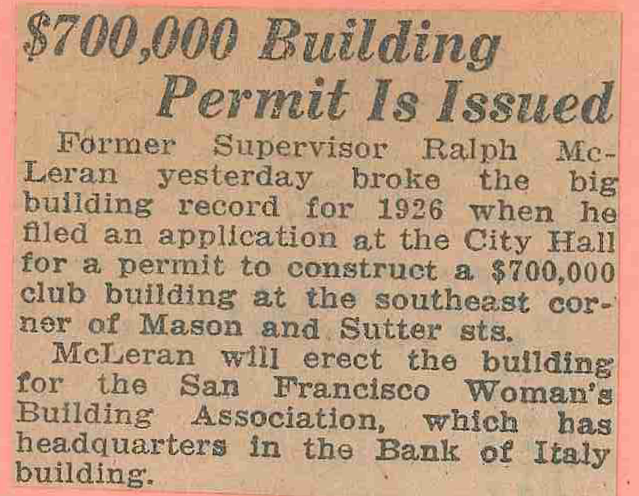 Marines' Memorial Association & Foundation
609 Sutter St.
San Francisco, CA 94102
Copyright © 2020, All rights reserved