Note all of the events described below, some of which may be of interest to members, from this fellow veterans organization in the Bay Area.
---
Whether you're spending the 4th of July with the kids at a small-town parade, mixing it up at your neighborhood block party, or buzzing with anticipation until the fireworks begin, it is always a joyous occasion. HAPPY INDEPENDENCE DAY!
Here at the Marines' Memorial, we are grateful every day for the generations of men and women who have devoted themselves to protecting the freedoms we enjoy. Our Living Memorial, Club events, and programs for Veteran and Active Duty service members demonstrate our enduring gratitude throughout the year.
Please help us continue to deliver great programs that Commemorate, Educate, and Serve, with an Independence Day Donation. Thank you!
Also of note for July:
> Our offices will be closed on July 4th in observance of Independence Day.
Steven Trout, Ph.D., Professor of English and English Dept. Chair, University of Alabama
MEET THE AUTHOR – 20 JULY 6PM: The Vietnam Veterans Memorial at Angel Fire – War, Remembrance, and an American Tragedy
Join us as Steven Trout tells the story of Marine Lieutenant David Westphall, who was killed near Con Thien on May 22, 1968, and of his family's struggle to create and maintain a unique memorial chapel dedicated to the memory of all Americans lost in the Vietnam War and to the cause of world peace.
Dr. Trout was inspired to undertake this project after discovering the memorial at Angel Fire in 2011.
JUST ANNOUNCED! MARINES' MEMORIAL LECTURE SERIES 2022 PRESENTS GENERAL ROBERT B. NELLER – 11 AUGUST 5:30PM 
We are proud to welcome General Robert B. Neller, 37th Commandant of the Marine Corps, to the Marines' Memorial Theater stage. General Neller retired in July 2019 after serving for 44 years. Join us for this very special event!
Watch your email to register!
BECOME A BENEFACTOR TODAY, BEFORE THE RATE GOES UP!

Lock in your lifetime membership and SAVE before the price increases to $4,500 on 31 August! Your one-time, tax-deductible donation of $3,500 brings all of the special privileges of being a Benefactor, plus recognition of your membership on our Benefactor Wall in the Lobby.
Benefactors are leaders whose commitment inspires others to reach higher in support of our mission. We will be honored to welcome you to their ranks.
BRING YOUR APPETITE FOR GREAT FOOD AND AWESOME VIEWS

If you've been to Chesty's lately, you know that our delicious menu, paired with stunning views, cannot be beat! Come up for dinner and drinks this month — we can't wait to see you! Dinner is served Tuesday-Saturday 5-8pm; Breakfast daily 7:30-9:30am; Bar Hours daily 4-9pm; and Happy Hour at the bar for members and hotel guests daily 4-6pm.
Email us for Dinner Reservations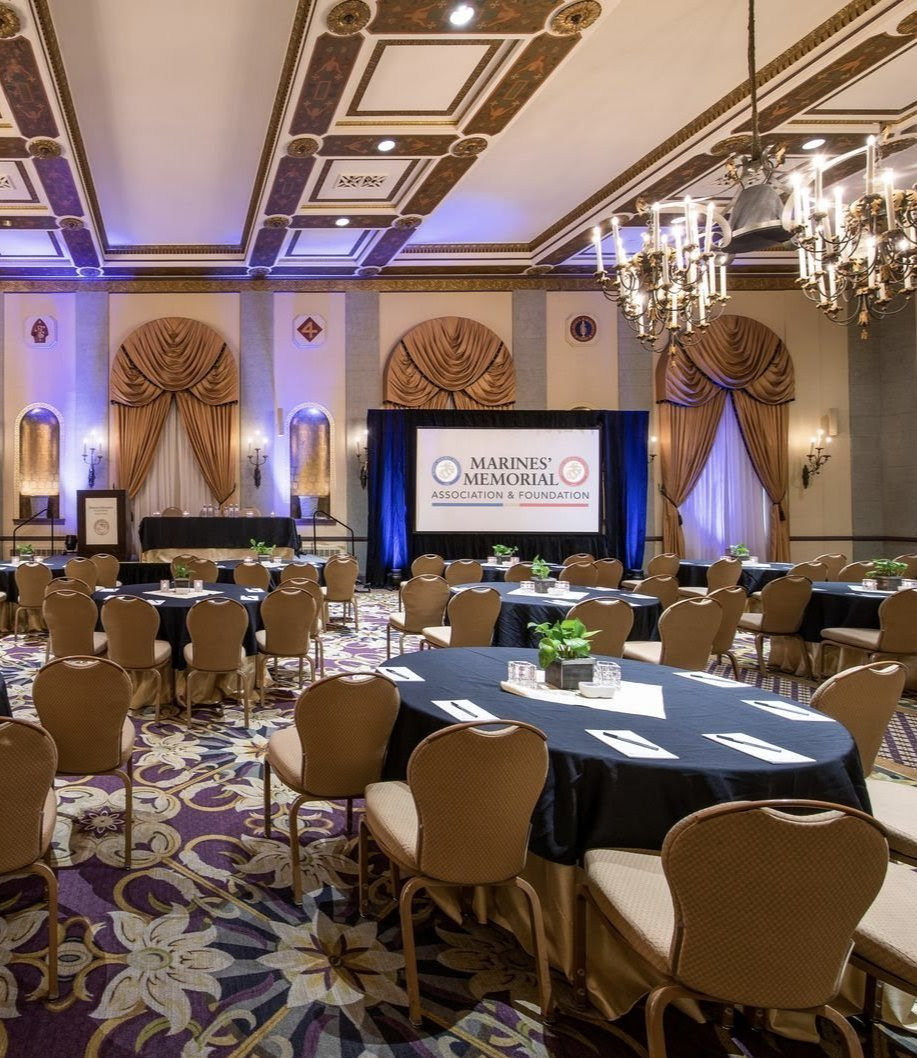 For your MEETING, REUNION, WEDDING or other SPECIAL OCCASION, we will work with you to create a memorable gathering with all of the superb service and ambience that makes the Marines' Memorial Club truly one of a kind.
We're ready when you are!
SAY I DO, CELEBRATE, AND LET US DO THE REST.

We are passionate about helping you create a one-of-a-kind celebration of love in our one-of-a-kind location. So, let's team up to make your wedding day magical!
Our event spaces and special packages accommodate wedding parties from 30 to 260 guests.
Every US service member and veteran you know can benefit from membership in the Marines' Memorial, and every membership supports our mission to Commemorate, Educate, and Serve.
Make it a WIN-WIN-WIN when you earn a free night's stay at your Club for every new veteran member you recruit!
ANOTHER GREAT WAY TO SUPPORT MMA

Sign up for Amazon Smile, and Amazon will donate on your behalf with every purchase! Here's how:
On your computer, go to Smile.Amazon.com and follow the instructions.
On your iPhone's Amazon App, open the main menu, tap Settings, tap AmazonSmile, and follow activation instructions.
PERFECT FOR ANY SPECIAL OCCASION, OR JUST BECAUSE!

Delight your favorite veteran with a Marines' Memorial gift card! It's good for accommodations, meals and Marine Club Store items, and it will never expire! Purchase gift cards by calling us at (415) 673-6672.
EARN FREE NIGHTS JUST BY STAYING AT YOUR CLUB!
Stay any 12 nights. Earn a gift certificate worth one free night's lodging for every 12 nights that you've stayed in the Club during the calendar year. Every night you stay qualifies, even if it's part
of a hotel package promotion.
Watch the mail for your reward. Each January, Guest Services will mail you the certificate(s) you have earned during the previous year. Certificates are valid for one year and good for accommodations Sunday through Thursday.
It's that simple. There are no forms to fill out — just use your Club, enjoy your stay, and look in the mail next January for your Frequent Stay Reward.
A SPECIAL STAY-AND-DINE PACKAGE FOR MEMBERS

Members-only Package Includes:
5 NIGHTS in a Standard Room
$100 Credit for Chesty's Bar & Grill
$50 Credit for Cesario's Restaurant
2 Souvenir Chesty's Coffee Mugs
Breakfast 7:30-9:30am Daily
Hosted Happy Hour 4-6pm Nightly
$439/person double occupancy
$799 single occupancy
Upgrades:
Deluxe Room / add $100
Suite / add $300
Tax & Parking not included
BOOK IT TODAY! 415-673-6672

Marines' Memorial Association & Foundation
609 Sutter St.
San Francisco, CA 94102
Copyright © 2021, All rights reserved