A couple of World War I items in this edition of Canada's History.
---
Plus: Stories from the First World War
Children of Conflict
Although Canadian children spent the war years far from the front lines, they were not mere bystanders to history — they were also active participants in a global conflict that forever altered their lives. Read more
Raid on Blécourt
Courageous Canadian action results in mass capture of Germans during the 100 Days Campaign. Read more
Grey War, No More
War of Words
History of Thanksgiving
Thanksgiving in Canada has its own history, separate from our American counterparts. Read more
A Peek Under the First Parliament Building
When surveys confirmed the site of Canada's first Parliament building in Montreal, it was like archaeologists had struck gold. With over half a million pieces collected, Pointe-à-Callière has gained incredible insight into what went on in that building. Watch now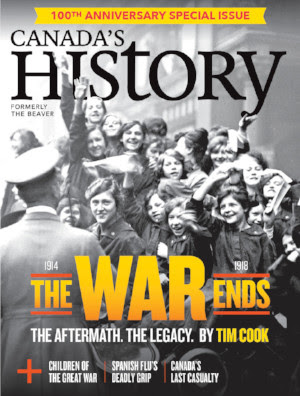 Start your subscription today and get your first issue free!
Did you get this newsletter from a friend? Sign up for your own and you'll be eligible to win a FREE book!
We have five uniquely curated newsletters, including ones for teachers and in French. Sign Up Now
View this email in your browser
Copyright © 2018 Canada's History, all rights reserved.
You are receiving this email as a member or friend of Canada's History. / Vous recevez ce courriel parce que vous êtes membre ou parce que vous appartenez à la communauté d'esprit de la Société Histoire Canada.
Our mailing address is:
Canada's History
Main Floor Bryce Hall, 515 Portage Avenue
Winnipeg, MB R3B 2E9
Canada